Running a control panel on your server can seriously simplify the time and effort it takes to setup and manage your websites. Particularly at scale (managing multiple websites)...
Plus, if you plan on selling any kind of web hosting service, a control panel isn't even an option. It's mandatory.
Typically you'll either be recommended cPanel or DirectAdmin. While valid alternative paid control panels exist, these are definitely the most popular. For good reason, too. These are both established products that have been around quite a bit.
But what one's the right control panel for you?
Good question. Let's compare the two and find out.
Ease of use
We're going to start with ease of use because the main purpose of a control panel is to simplify your life, and save your time.
cPanel's ease of use
cPanel has been in the market for a long time and has become known for its intuitive and user-friendly interface: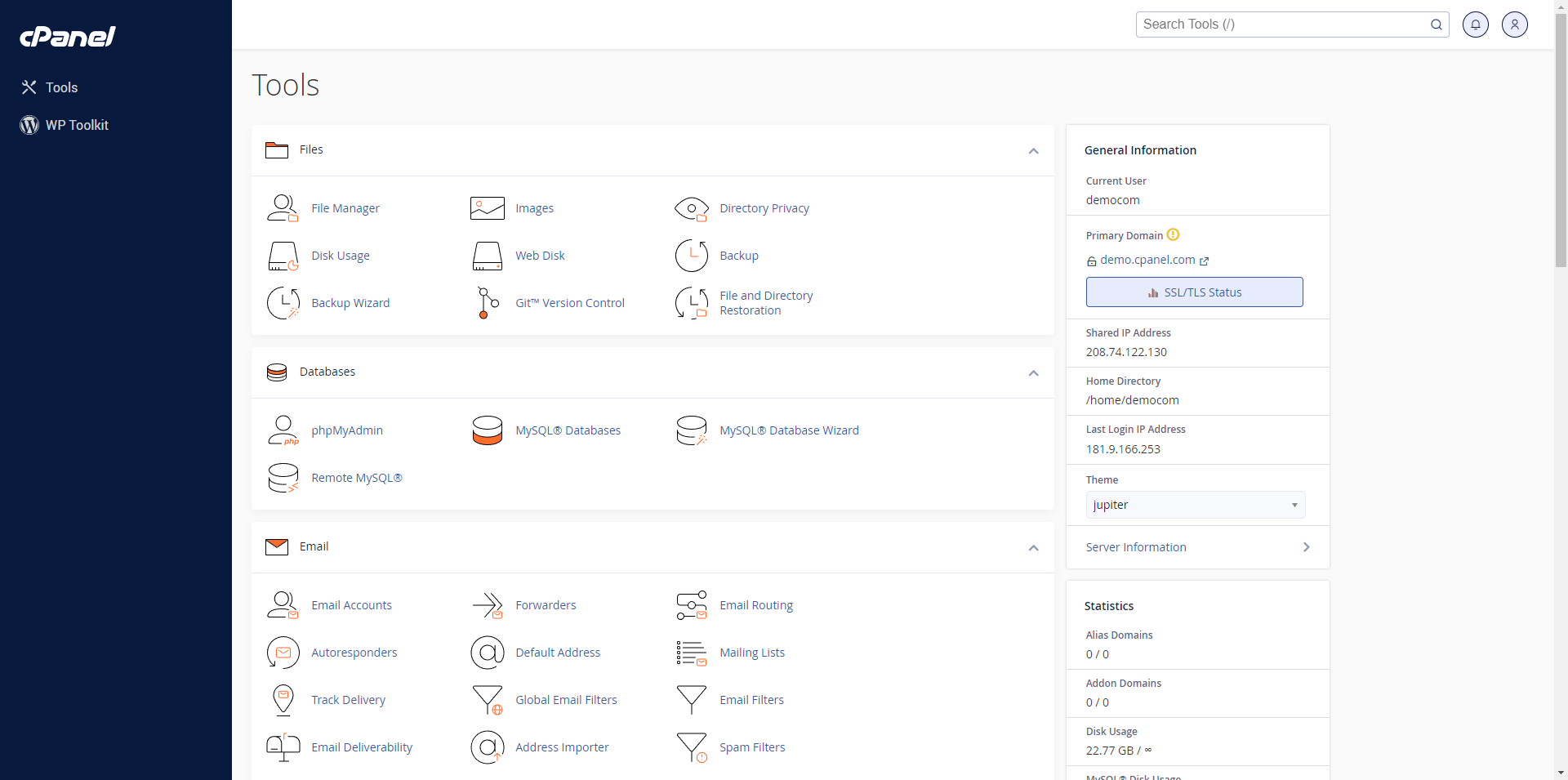 Its well-organized layout with clear icons and descriptions makes it easy for users to find and use the features they need.
Pretty much everything you could need is presented to you in an easy to understand fashion. Once installing cPanel, you rarely need to open your SSH client.
There's not a lot of complaints about usability in terms of cPanel. It has a nice user interface, and works well.
DirectAdmin's ease of use
Most people have a love/hate relationship with DirectAdmin's interface: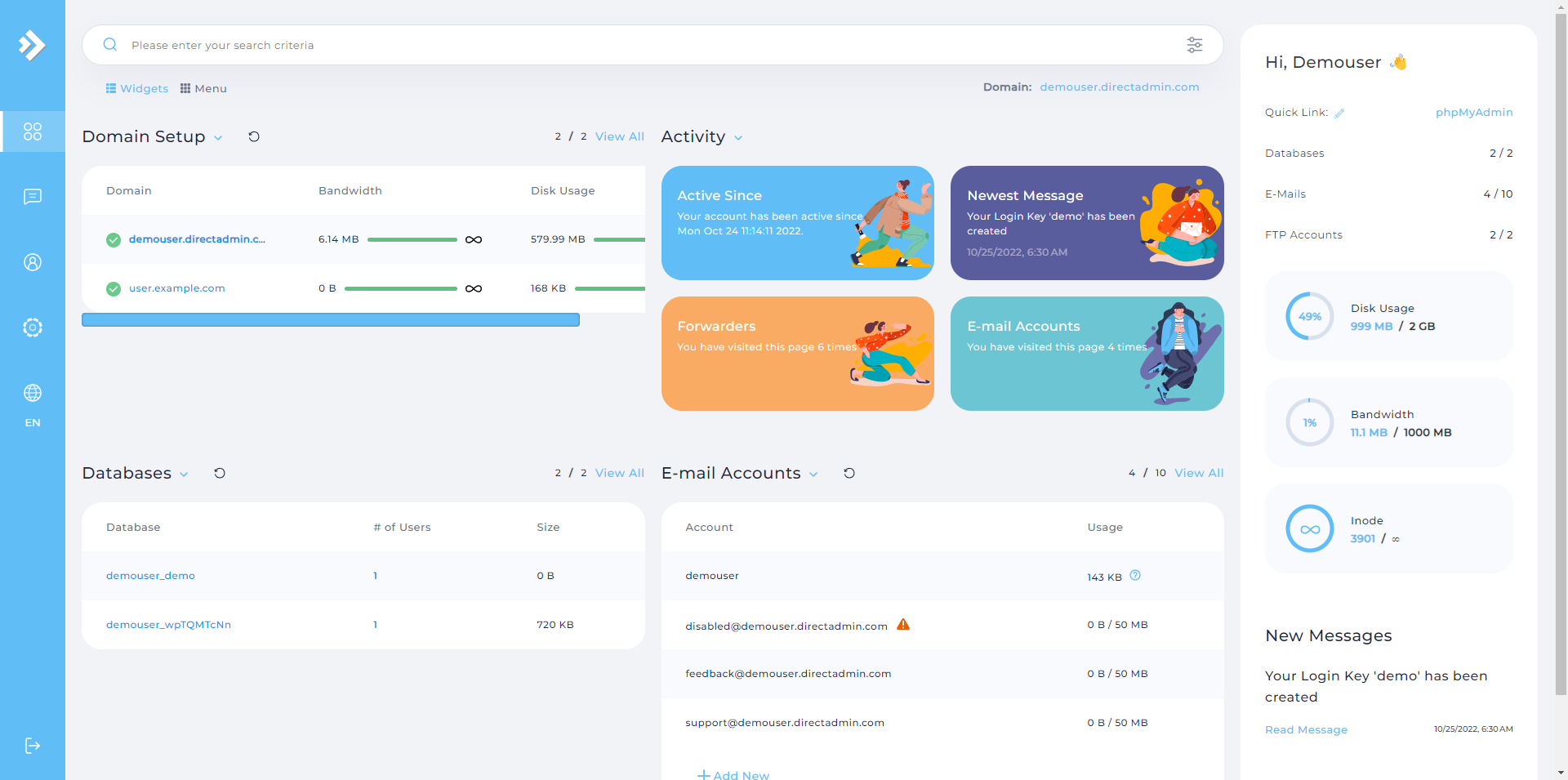 Some people prefer it, but I tend to think it's a little more crowded and requires more clicks to get around rather than cPanel.
It's not bad by any stretch of the imagination, and they've actually significantly improved it over the last couple of years, but I wouldn't say it's as good as the experience of using cPanel.
There's also quite a bit of tasks that essentially require you to login to SSH, so it doesn't simplify things quite as much as cPanel there either.
It should be noted DirectAdmin works with most Linux distributions, whereas cPanel is specifically designed for RHEL, and RHEL derivatives like CentOS or AlmaLinux.
So that is a benefit, especially if you're a fan of Debian or Ubuntu.
Features
cPanel's features
cPanel is rich in features that cater to various user needs.
It offers an extensive range of functionalities including email management, file management, domain management, and database management among others.
cPanel also supports a plethora of plugins and add-ons, expanding its capabilities further.
Pros
Simple installation and ease of use.
High performance and robust email management functionalities.
Huge community and excellent support.
Regular updates ensuring access to the latest features.
Easy WordPress website management.
Cons
Can be overwhelming for beginners due to the extensive feature set.
Somewhat resource-intensive, which may not suit smaller hosting setups.
Proprietary software, thus lacks the flexibility of open-source solutions.
Higher cost, especially for managing multiple websites (with multiple accounts).
No built in account/file isolation.
DirectAdmin's features
DirectAdmin provides a solid core of essential features necessary for server and website management.
While it might not have as extensive a range of features as cPanel, it covers the basics well.
DirectAdmin also supports various plugins, although the ecosystem is not as vast as cPanel's.
Luckily with recent updates, DirectAdmin has added a lot of new usability (pro pack) including built in user isolation, meaning if one users account gets compromised, the whole server doesn't get compromised. That's a very big benefit. With cPanel, you would have to pay for CloudLinux separately.
They've also recently improved their built in auto-installer and WordPress management possibilities, so there are some significant improvements happening over at DirectAdmin.
Pros:
Easy to use, especially for beginners.
Light on resources, ensuring smooth operation even on smaller servers.
Regular updates, ensuring a stable and up-to-date user experience.
Affordable pricing with a straightforward feature set.
Built in user isolation.
Easy WordPress website management.
Cons:
Limited feature set compared to cPanel, requiring command line for some configurations.
Smaller community and less popularity may lead to fewer resources for troubleshooting.
Navigation can be harder compared to cPanel.
Performance
cPanel's performance
cPanel is known for its reliable performance.
However, it can be resource-intensive, especially on servers with limited resources.
DirectAdmin's performance
DirectAdmin is a bit lighter on server resources compared to cPanel, but not a lot.
The additional resource consumption of a control panel is a trade off you'll have to make regardless.
Security
cPanel's security
There are no security concerns with cPanel. It's a polished product.
But if you're going to be hosting cPanel in a shared environment (like selling web hosting services) then you'll want to obtain a license of CloudLinux as well. This protects your entire server from the lack of security of one user.
DirectAdmin's security
There's also no security concerns with DirectAdmin either.
Also, like I've already mentioned, a huge benefit of using DirectAdmin is that you get user/file isolation out of the box with Direct Admin pro pack.
Pricing
cPanel's pricing
cPanel has seen a significant price increase in recent years, which has been a point of contention among users.
The pricing is now based on a per-account basis which can get expensive for hosting providers with a large number of accounts.
DirectAdmin's pricing
DirectAdmin is often seen as a more cost-effective alternative to cPanel, with a lower price point and a simpler pricing structure.
Pricing compared
| Feature/Tier | cPanel Solo® | cPanel Admin | cPanel Pro | cPanel Premier | DirectAdmin Personal Plus | DirectAdmin Lite | DirectAdmin Standard |
| --- | --- | --- | --- | --- | --- | --- | --- |
| Price (Monthly) | $15.99 ($17.49 from Dec 16th '23) | $27.99 ($29.99 from Dec 16th '23) | $39.99 ($42.99 from Dec 16th '23) | $59.99 ($60.99 from Dec 16th '23) | $5 | $15 | $29 |
| Accounts | 1 | Up to 5 | Up to 30 | Up to 100 (Additional accounts $0.39 each, $0.40 from Dec 16th '23) | 2 | 10 | Unlimited |
| Domains | - | - | - | - | 20 | 50 | Unlimited |
| Technical Support | - | - | - | - | Installation technical support | Unlimited technical support | Unlimited technical support |
| Automatic Upgrades | - | - | - | - | Yes | Yes | Yes |
| Installation | Cloud/VPS Only | Cloud/VPS Only | Cloud/VPS Only | Cloud/VPS & Metal/Dedicated | Self or Cloud/VPS or dedicated server | Free or Cloud/VPS or dedicated server | Free or Cloud/VPS or dedicated server |
| Bulk Pricing Discount | - | - | - | - | 15%-25% | 15%-25% | 15%-25% |
| Best Suited For | Small businesses, freelancers | Small to mid-level agencies and businesses | Mid-level businesses and large agencies | Data centers, enterprise level businesses, larger web hosts | Separation of admin and end-user, Pro Pack features | Small companies | Medium to large shared-hosting and/or reseller-hosting companies |
Conclusion
The decision between cPanel and DirectAdmin boils down to your specific needs, technical expertise, and budget.
If you're looking for a feature-rich, user-friendly, and well-supported control panel, cPanel could be the right choice.
On the flip side, if you're after a more budget-friendly, lightweight, and straightforward control panel, DirectAdmin might just hit the sweet spot.
Either way, you'll want a reliable host you can trust to power your websites. That's where xTom comes in.
Dedicated, colocation, transit, or VPS, whatever you need to power your digital infrastructure, we've got you covered.
If you're looking for something small and affordable (but reliable) our self-service VPS line is perfect for you.
If you're looking for a little more power and something bigger (like a dedicated server)... reach out to our sales team here and we'll gladly get you taken care of.
Thanks for reading!
P.S. If you're interested in installing cPanel, we posted an article detailing how to do just that here.