Not everyone wants to have to do everything through SSH.
Some people value the performance something like a dedicated server or VPS provide while still wanting essentially the exact same experience (and convenience) as shared hosting.
You know: set up your server, install a control panel, and then from that point forward rarely visit SSH--besides basic tasks and updates.
Even some experienced system administrators prefer it that way for the sake of time. No harm, no foul.
Most people would opt for something like cPanel or DirectAdmin, but what if I told you that you could still have the convenience and security of an expensive paid panel like cPanel without spending a single dollar?
Yep, that's right. Nowadays, there's quite a few established free control panels that can compete with the paid control panels.
That said, in this blog post, we'll be diving into the top 5 free web hosting control panels that are worth giving a shot. Let's dive in.
1) Virtualmin/Webmin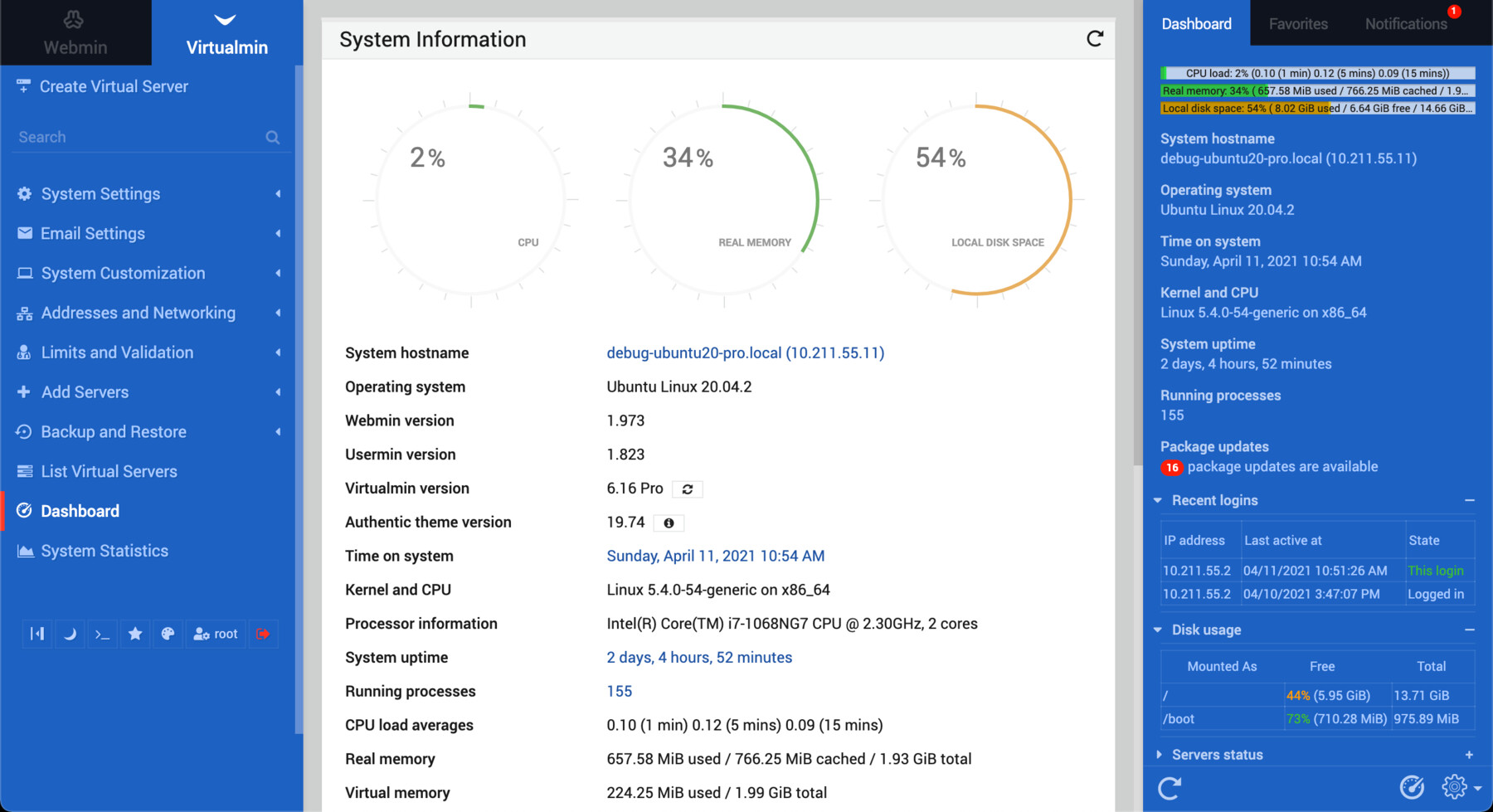 Virtualmin is a powerful and flexible web hosting control panel that's built on top of the Webmin system administration tool. It's designed for managing Apache, MySQL, BIND, and other system applications.
Pros
Supports Apache and Nginx.
Comprehensive email management.
Easy automatic backups and updates.
Supports Let's Encrypt for free SSL certificates.
Modular design allows for easy expansion and customization.
Active community and regular updates.
Cons
Very ugly, and looks like it was designed by a software engineer for sure. But to some people that may be an appealing vibe.
Can be overwhelming for beginners due to its extensive features.
Some configurations might require manual intervention in SSH.
Not as intuitive as some other modern control panels.
Why choose Virtualmin
If you're looking for a comprehensive solution that integrates system administration and web hosting management, Virtualmin is a top choice.
It's particularly suitable for those who want a robust and flexible system with the potential for customization. Whether you're a small business or a larger enterprise, Virtualmin offers the tools and scalability to meet your hosting needs.
2) ISPConfig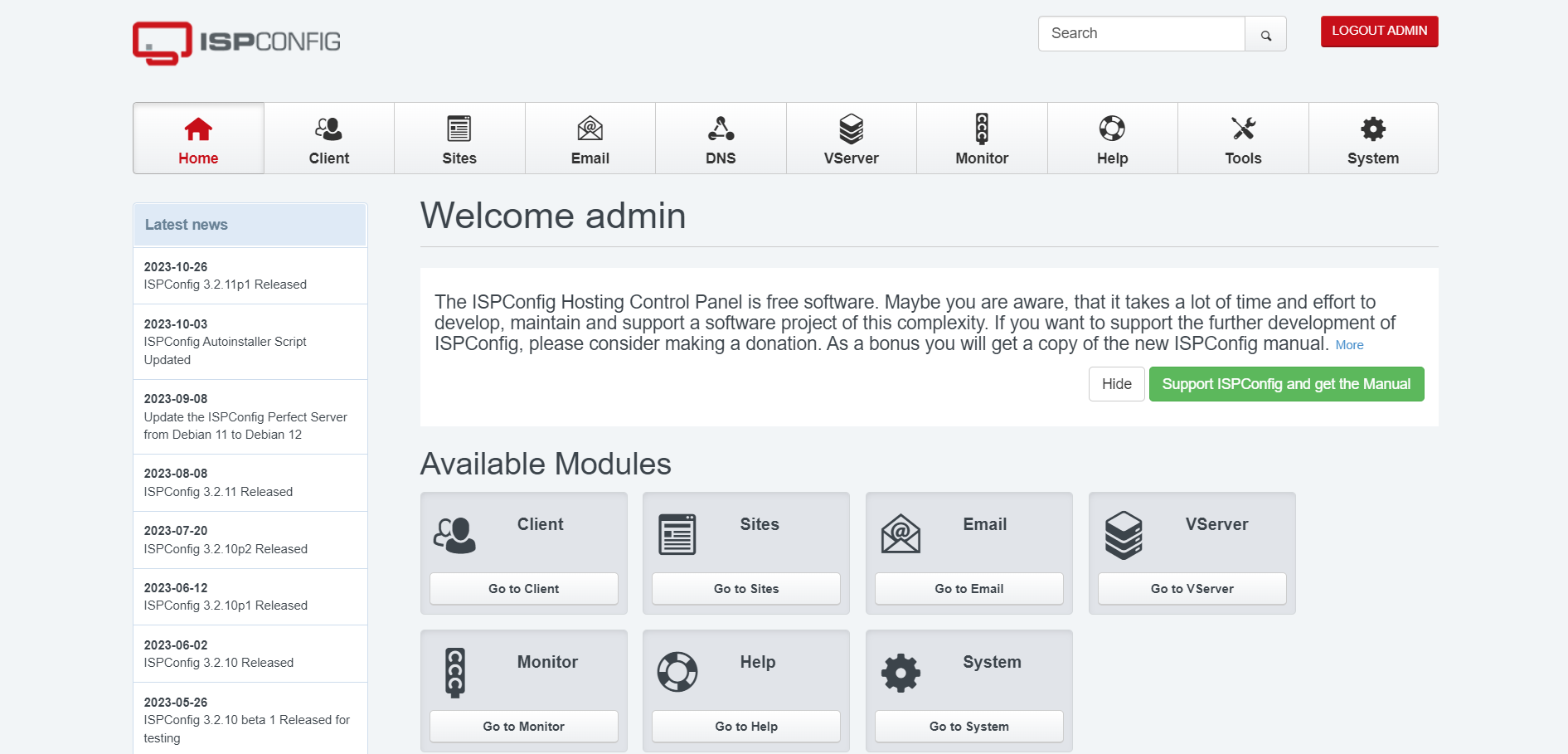 ISPConfig is an open-source hosting control panel that allows you to manage multiple servers from one control panel interface.
Pros
Supports Apache and Nginx.
Built-in billing module for resellers.
Supports Let's Encrypt for free SSL certificates.
Advanced client and reseller management.
Cons
Requires a steeper learning curve for beginners.
Limited third-party integrations.
The interface can be a bit outdated compared to other modern control panels.
Why choose ISPConfig
It's ideal for agencies and resellers who need to manage multiple client websites and servers. Its robust features make it suitable for advanced users who want more control over their hosting environment.
3) CloudPanel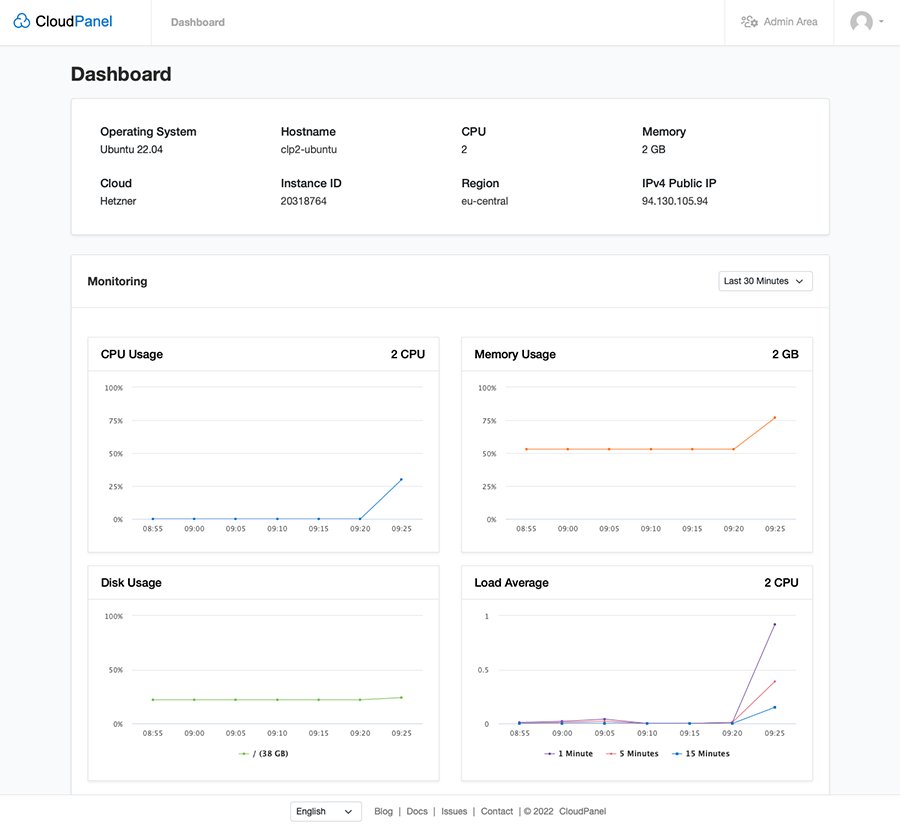 CloudPanel is a free, high-performance control panel optimized for the cloud. It's designed with a focus on simplicity and speed, making it a top choice for modern web applications.
Pros
Supports Apache and Nginx.
Optimized for cloud platforms like AWS, DigitalOcean, and Google Cloud.
Supports Python, Node.js, PHP, MySQL, Redis, and more--generally supports more environments than most control panels.
Supports Let's Encrypt for free SSL certificates.
User-friendly interface with detailed documentation.
Cons
Limited support for non-cloud hosting environments.
Might be overkill for simple, small-scale websites.
Lacks some advanced features found in other control panels.
Why choose CloudPanel
If you're looking for a cloud-optimized solution with a straightforward setup, CloudPanel is the way to go. It's perfect for developers and businesses that operate primarily in cloud environments.
4) HestiaCP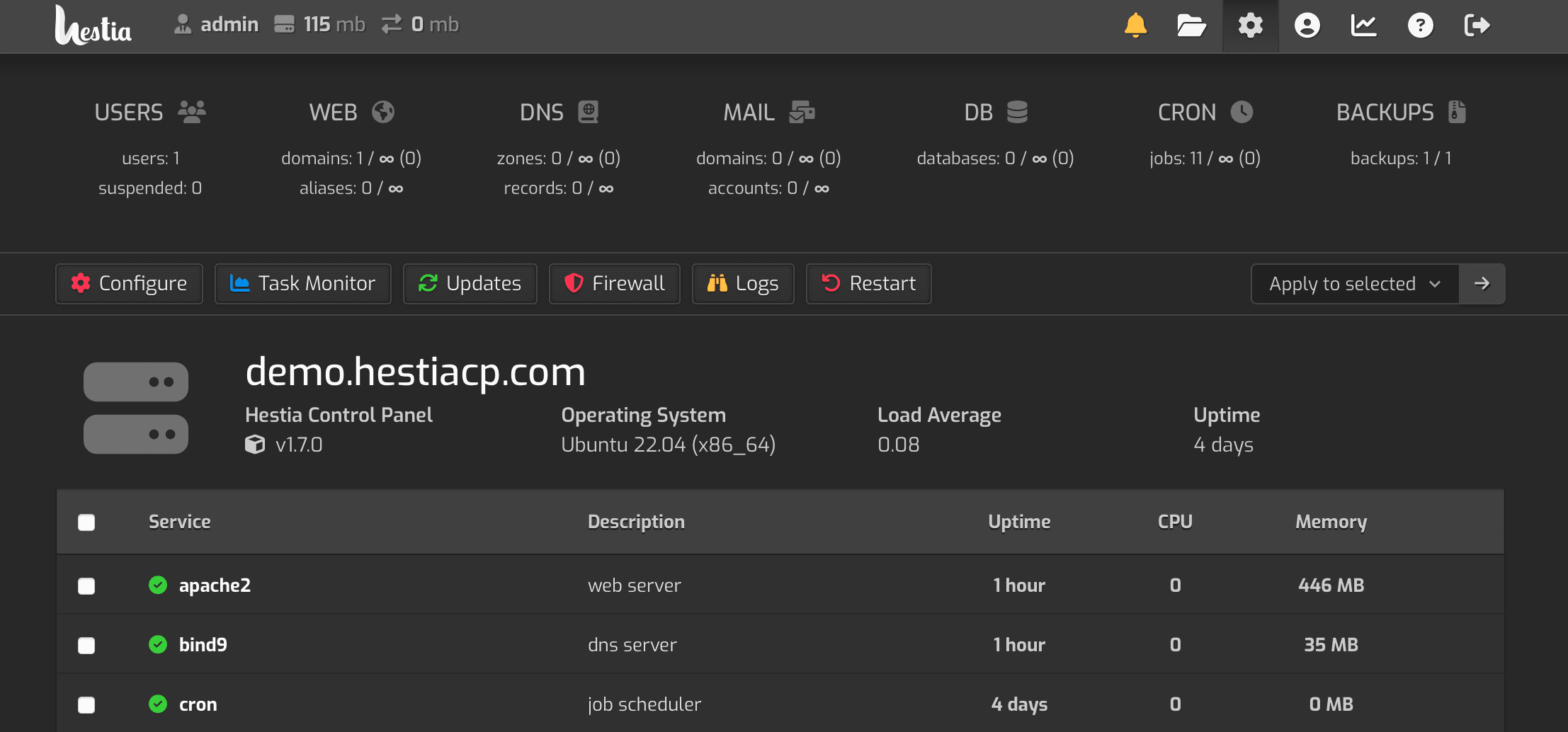 HestiaCP is a fork of VestaCP and has quickly gained popularity due to its enhanced security features and active community support.
Pros
Supports Apache and Nginx.
Supports Let's Encrypt for free SSL certificates.
Softaculous auto-installer for popular web applications.
Responsive interface for mobile devices.
Cons
Some users report occasional bugs and glitches.
Migration from VestaCP can be tricky.
Limited official documentation, though the community is active.
Why choose HestiaCP
With its focus on security and an active community, HestiaCP is ideal for those who prioritize safety and community-driven improvements. It's a solid choice for both newbies and experienced users.
5) Froxlor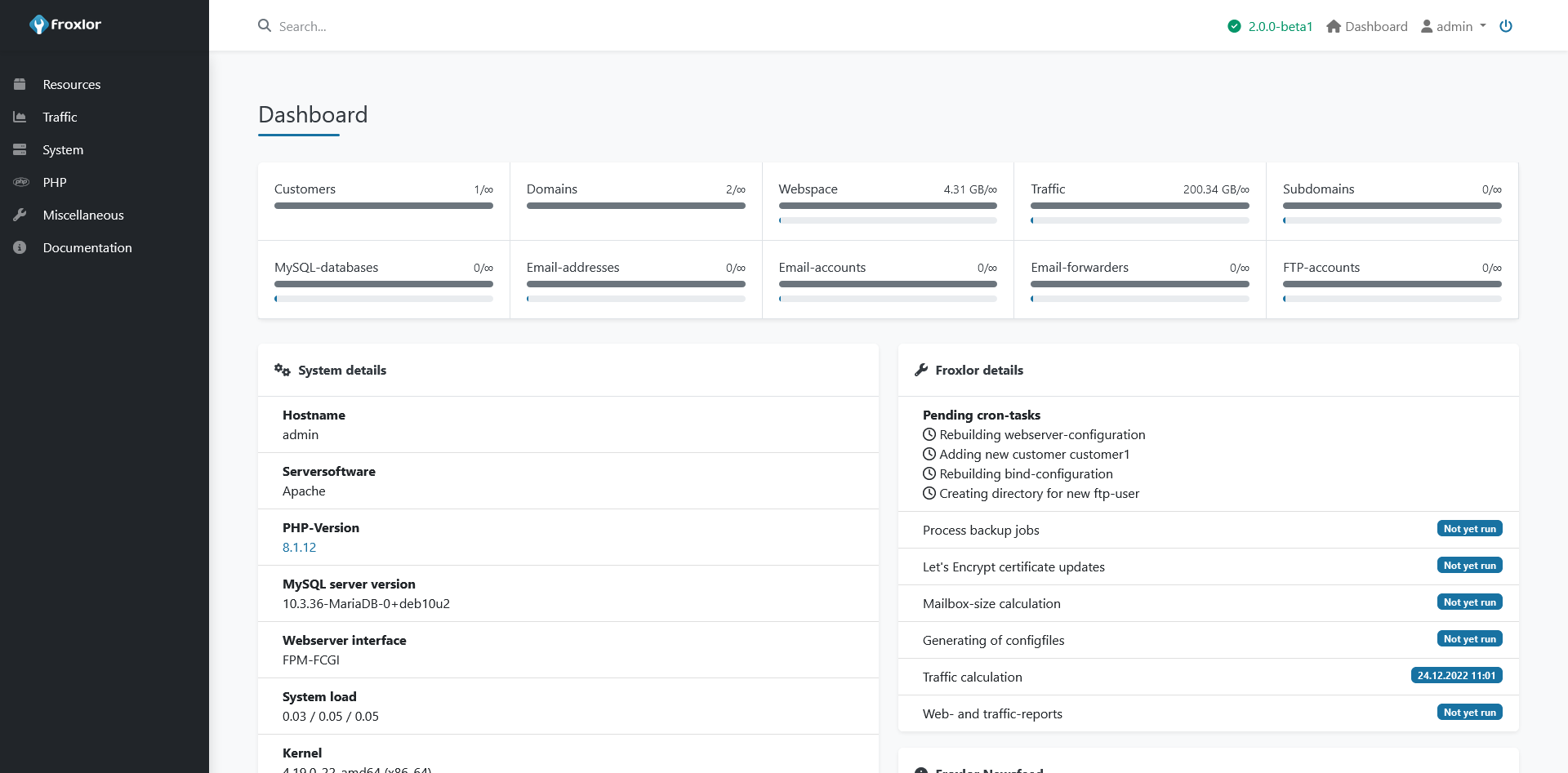 Froxlor is designed to be a lightweight and easy-to-use control panel, making it perfect for personal projects and small businesses.
Pros
Supports Apache and Nginx.
Sleek UI. Easy to use.
Supports Let's Encrypt for free SSL certificates.
Cons
Not as feature-rich as some of the other options on this list.
The interface, while user-friendly, can feel basic.
Limited scalability for larger projects.
Why choose Froxlor
It's a user-friendly option that doesn't sacrifice on essential features. Ideal for hobbyists, personal projects, and small businesses that don't require advanced functionalities.
Conclusion
Choosing the right web hosting control panel all depends on your specific needs, technical expertise, and the features you prioritize.
Whether you're a seasoned webmaster, or just getting started, there's a free control panel out there that's perfect for you. I suggest giving them all a try and settling on the one that feels right for you!
Speaking of giving new things a try...
Over here at xTom, we provide the following hosting services:
Please consider us for your web hosting and infrastructure needs -- we're extremely confident you wont regret your decision, and we would love to prove it to you.
Big or small, we would make a great host for your next website.
Thanks for reading!
P.S. Any questions about xTom or what hosting solution is right for you? Reach out to us here.